Continuing Bruin Tracks: CHS journalism students publish paper despite COVID-19 – Montrose Daily Press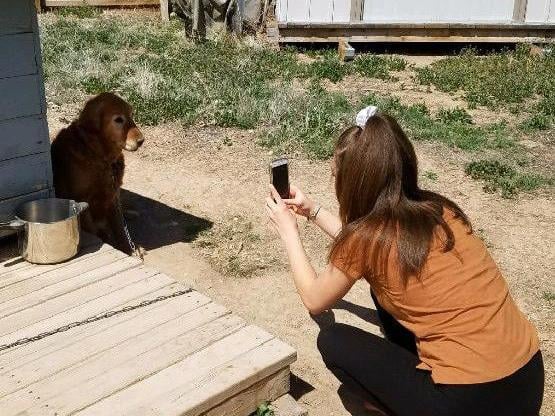 For nearly 80 years, the Cedaredge High School Bruin Tracks newspaper has been the source of student-written CHS content, which the journalism students are going to continue, despite the coronavirus shuttering the school's doors.
Prior to the coronavirus-caused closure, newspaper and journalism teacher Michele Gillis encouraged her students to document their activities for the newspaper next school year. With time on their hands during the closure, the students approached Gillis about publishing an April newspaper.
"They are just always willing and meet their deadlines," Gillis said. "I really encourage them to own the project. It is theirs, not mine."
Seventeen students are reaching out to district staff and students to produce content for the April newspaper. Grace Hatheway, the student editor, said, originally, they were not planning to create an April newspaper.
"We weren't planning to do an April paper, but then Hannah Hohenstein came up with an idea for content," Hathaway said. "We have stories about online, distance learning, the work of cafeteria cooks and bus drivers to serve meals, what journalism students are doing and the back page is for seniors."
The students are also putting together stories for the May paper, which highlights the seniors.
Hatheway used her laptop to build the newspapers throughout the school year, but she said working from home is a challenge.
"At home, I'm trying to find the time to work on it, unlike school, where I had a scheduled time," she said. "Time management is the hardest part."
As the journalism students work remotely to create content for their newspaper, Gillis reflected on the history of the school publication and a recent archive she received.
Gillis, who has been the journalism teacher for 22 years, has seen the newspaper evolve from copy paper to a four-page edition every month.
"When I took it over, it was basically run on a copy machine," Gillis said. "When I got started, I wanted to get it published when I could."
After approaching the owners of the Mountain Valley News, a local Cedaredge newspaper, Gillis' journalism students began producing a monthly newspaper. Mountain Valley News turned over owners multiple times, presenting Gillis with a dilemma about finding another newspaper to print the students' work. She approached Randy and Pat Sunderland, who owned the Delta County Independent.
"Randy, who owned the DCI was gracious to print our paper," Gillis said. "I chose them because it was a traditional newspaper format, and I knew that it was a great opportunity for my students."
Gillis has also witnessed the evolution of photography and newspaper graphics during her time with the district.
"The graphics have definitely improved," she said. "Randy Brown, our principal, is very supportive and has helped us have access to top of the line software items."
Students also sharpened their photography skills with the transition to digital photography.
"When we went digital, it went from sweating blood outside the dark room, hoping your photography comes out, to knowing what you have at the event," Gillis said.
With the coronavirus starting to ramp up, Delta County School District closed its doors and transitioned to remote learning. Just before the closure, Gillis received a package.
"A few weeks before all this happened and the school closed down, I had some papers given to me that had been purchased from the thrift store in town," she said. It was a Cedaredge High School newspaper from 1941, which is the oldest record of an edition."
Ahead of the Friday deadline, the newspaper staff, along with Gillis held a Zoom meeting to map out content. Once articles and photographs started to come in, Hatheway said a challenge was downloading the items.
"Getting everything downloaded onto my computer is challenging," she said. "I have to sit in the school's parking lot, for at least an hour, while I wait for stuff to download."
With a strong student newspaper staff, Gillis looks forward to seeing April's final product.
"I have great kids and they are just extremely independent," Gillis said. "I'm counting on it. I don't think they'll let me down."
Laying out the pages for the April newspaper, Hatheway hopes the readers enjoy the edition as the students work to maintain some normalcy.
"Everybody in journalism is working hard writing stories and taking photos," she said. "I hope everyone enjoys it, even though we are not in school and hopefully, it's something positive with everything going on."
The April edition of Bruin Tracks is set to publish in the Delta County Independent on April 15.
Lauren Brant is a staff writer and digital content coordinator for the Montrose Daily Press.
My Lesson Planning
Photography
via Learn Photography https://ift.tt/2Rw6oRz
April 13, 2020 at 06:06AM